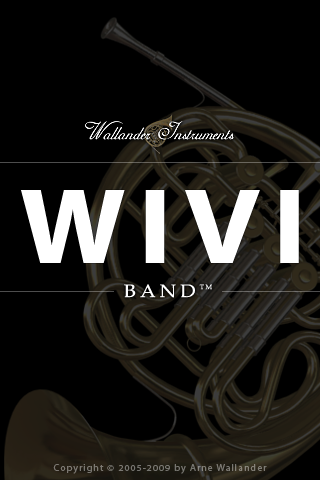 THIS SOFTWARE IS ONLY AVAILABLE THROUGH THE IPHONE APP STORE.

PRICE: $10

iTunes Link


Click here for Wivi Band @ YouTube, demonstrated by amazing Jordan Rudess of Dream Theater!


Learn about the music and movie industry's best kept secret - Wivi. The Wivi instruments sound and behave like real musical instruments, but are so easy to play even a child can do it.

Wivi is normally used by artists, composers and producers for everything from radio hits to Hollywood blockbusters. Now you can also enjoy the same expressive musical instruments which the professionals have had access to for years.

Wivi Band runs on the iPhone, using the microphone as a wind controller, and an easy-to-learn piano fingering with 5-octave range.

Wivi Band includes 15 expressive musical instruments:

• Trumpet,

• Trombone,

• French Horn,

• Tuba,

• Tenor Saxophone,

• Alto Saxophone,

• Flute,

• Piccolo,

• Alto Flute,

• Clarinet,

• Bass Clarinet,

• Oboe,

• English Horn,

• Bassoon and

• Contrabassoon.

Hook up Wivi Band to headphones, a Hi-Fi system or multi-track recording device, start a band with your friends or let your kids play and watch them grow into confident musicians overnight.


Frequently Asked Questions (FAQ):

Q: The octave keys sometimes let go when I play the keyboard?
A: Make sure your screen is as clean as possible! This makes it easier for the iPhone to detect multi-touches.

Q: Why is the sound low-fi on my 1st generation iPhone?
A: The iPhone 2G (1st generation) automatically locks at 8 kHz sample rate whenever the internal microphone is in use. To get high-quality output on 2G iPhones, you must use a compatible headset with microphone.

Q: How do I use it on my iPod Touch?
A: If your model supports it, you can use a headset or an external microphone. If you don't have a microphone, the Wivi Band instruments will lock at the highest dynamics and are still playable, but without wind controller support.

Q: Why are some keys blacked out?
A: Keys that are blacked out are outside of the natural range of the instrument. Most wind instruments only have a 4-5 octaves range.


Requirements: iPhone running iPhone OS 2.1 or later.

Availability: Through the iPhone App Store (link).